Find the best wireless security cameras to protect your home. If you live in a small apartment and want to keep tabs on things when you're not home, an indoor security camera can get the job done for a lot less money than what you'll pay for a full security system.
As an apartment owner or renter, here are some of the features you should look for in a security camera. These will help you make the best decision.

Wireless or wired camera
Keep in mind that the former can be installed faster and easier, while you will need many wires and more work to install the wired system. Easy installation is the biggest perk of wireless security, followed by flexibility in terms of finding a location for the camera.

Installation and tools
Some cameras are inexpensive, but their installation costs more than the camera itself. As an apartment owner, you should ask yourself how much you are willing to spend on camera installation and whether you'd prefer a simpler design or a complicated one.

Type of camera
You can choose to have a small or large camera, one or several, cameras that tilt and turn or static cameras, night vision included or excluded, and many other options.
Home Security Camera Battery
If you're looking for a home security camera battery, there are many questions to ask yourself.

What kind of batteries do I need?
How long will the battery last in my security camera?
Can I recharge batteries for my camera?
Battery Security Camera Benefits
Since you are probably considering adding some security to your home, you will enjoy the benefits a security camera offers. Here are just a few of those benefits:

An actual visual knowledge of what is happening
The notification system of a good camera in the form of a text or sound alert will keep you informed as to who arrived at your front door, where your child is, whether your family members got back home, etc.

Peace of mind
No one likes burglars, which is why one of the greatest benefits of security cameras is the feeling of safety they provide. You will feel much better when you know that no intruder can enter your home without your knowledge. It doesn't really matter if you are inside or outside the home – peace of mind comes with the action of buying a security camera.

A chance to prevent problems
When you see an intruder, you can call the police to try to prevent them from stealing or damaging your belongings. When you see a vandal, you can stop them from destroying your home.
Even when you see your child doing something wrong or leaving the home, you can act quickly to stop the problem. Even a single camera on the only exit of your home will help you keep track of your pet's movements and save you from hours spent looking for him outside.

Record or evidence
Whether you need it for insurance or to catch the bad guy, the camera will provide you with the video you need as evidence.
Best Smart Solar Security Cameras For 2020
battery operated wire-free security cameras
Soliom sp10 is not just an affordable solution for your home security, but also offers the following features:

122° wide-angle lens and night vision
Motion detection and 1080p image sensor
HD camera
IP65 Weather-resistant
High-quality microphone and built-in speaker
Loud Two way Talk
Encrypted cloud storage and secure web transfer
Smart Detection Zones & AI Event Detection
4000mah solid rechargeable battery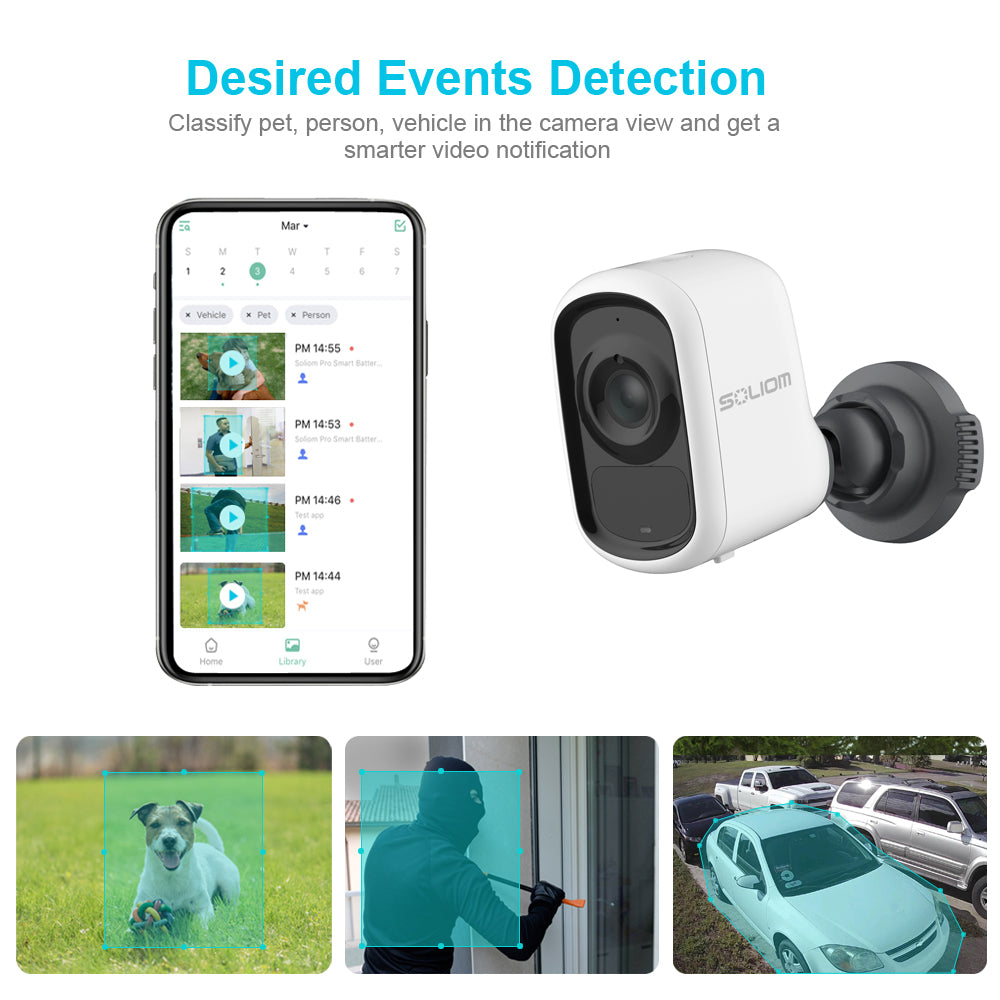 The camera is powered by a rechargeable battery, the camera is small, inconspicuous, and easy to mount. Soliom SP10 battery security camera is an excellent choice for most people, especially if you want a quick setup, multiple cameras, and outstanding video quality. Access to the live video feed through the app is free, no contracts required. For the camera's recording function to work, you'll have to purchase a micro SD card, since one isn't included with the camera. Basic cloud storage for video recordings is free, but if you want extra cloud storage, Soliom has a few different plans to choose from.