Solar security cameras are becoming increasingly popular because of their benefits. From saving on wiring costs and energy bills to ease of use, they offer great value whilst keeping cost minimal.
Buying Outdoor Solar Security Camera: Step Up Guide
The technology of the Soliom solar-powered outdoor camera security system enables them to be installed virtually anywhere, no matter how remote the property or the availability of the power grid. This makes them ideal for protecting and monitoring remote locations as well as properties in environmentally sensitive areas where installing the infrastructure would be invasive.
The first step in the process is to determine where you will mount and install your soliom solar security camera. It is imperative you select a location that gets the most sun exposure throughout the day. Even though you only need a few outs of sun exposure to keep your camera powered throughout the day, you do not want to put the soliom outdoor solar security camera in a location that will be hidden with shade. Install it high over your parking lot for a bird-eye sight of every action on your land. Position it above your workshop or landscape to monitor over essential zones of the house.
Simple Setup and Implementation
Pick a region that earns a minimum of 1-3 hours of bright sun per day. Guarantee that the system can stay powered each day. So you apparently would not have to adjust it periodically. 
Do not even mount a device far away from your WI-FI device. Please keep a keen watch on the transmitted signal indicator on the live focus panel. 
Place at an altitude of approximately 8 feet. It will offer you indeed a decent variety of PIR identification and a strong angle of vision. 
The device can be installed very easily. All you need is a screwdriver. No drilling or making a hole is necessary. Install the brackets on the vertical surface, locate 3 holes, and wrench the equipment in the location. Then just rotate the structure of the device on it. Your device is ready to use. A totally wire free security camera system is the best solution for DIYers. All one needs is to mount the cameras where they wish to monitor and that can be anywhere within the wireless range. Never have to worry about power and cabling.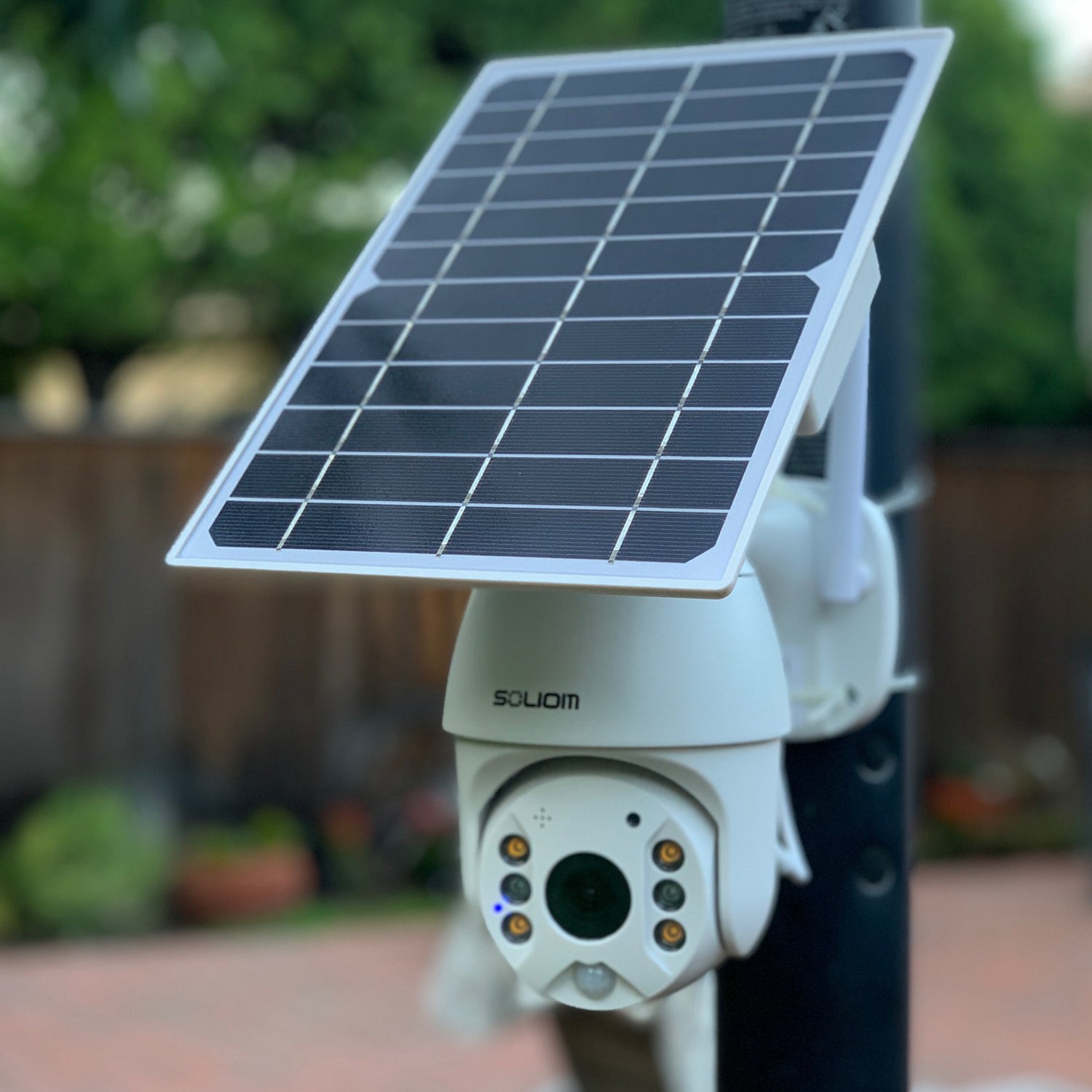 Ideal Locations to Place Solar Outdoor Security Cameras
There are a few specific places that are ideal for a solar powered security camera, though I always recommend them for standard homes and smaller offices as well.

Log cabins in the woods
Sheds in the backyard
Vacation homes
RVs
Campsites
Warehouses
Mother-in-law apartments
Kids' bedroom windows
Construction sites
Barns
Off-the-grid farms
Boats
Rental properties
Stables – especially stalls for animals with health concerns
The reason I particularly recommend solar cameras for these locations is that you can have added peace of mind being able to see things that you don't typically get to keep a close eye on. When you're away, it's good to know that the kids are secure, the tools are secure, and your RV is closed up tight.

I especially like having one or two of these along for camping trips of any extent. They help me know the site is secure when I'm off hiking or visiting the local areas of interest.
Best Solar Security Camera- User Buying Consideration
Solar Panel Capacity
How much electrical energy the camera's solar panel can produce is determined by the size and efficiency of the panel and the intensity of sunlight. A typical panel for this type of application can produce around 265 watts of power. The technical data sheet of the camera to be installed should be reviewed so that it can be adjusted to the consumption of the camera.
To get the best performance from the cameras, the solar panel should face the sun and avoid obstacles such as trees, banners, fences, etc. Rechargeable batteries are used to power the camera in the absence of electrical current from the panel when sunlight is not present.
It is recommended that the batteries be at least 10 times the maximum capacity of the solar panel so that the batteries are not damaged by overcharging. It is advisable to consult the supplier for the complete kit (panel, camera, battery) if you initially do not have the experience of implementing these types of solutions.
If you require a battery fix as a system backup, consult your factory or dealer for the recommended model or reference.
Data Transmission
The most practical thing for this type of application is to have a WiFi network for the cameras' data connection.  Most manufacturers offer models with ONVIF protocol with which these teams can be incorporated into VMS solutions that operate this standard.
Currently, most allow it. Some models use the cellular communication network for video transmission over 3G / 4G. That is a solution for cases where there is no Internet access.
On the other hand, construction of a Wifi network is not possible, but there is good coverage of the cellular network.
Safer Installations
To avoid damage from theft or vandalism, it is recommended that the solar panel is not located in an easily accessible way; It can be on top of a pole or the roof of the building. Take advantage of basic video analytics features like motion detection, loitering, and alarm features as deterrents.
It could generate visual or audible alerts to scare away potential attackers from the system. It is recommended that in this type of application, the camera be configured to a minimum of 1080p to be able to have identification and recognition of details at a certain distance.
Implement SD memory cards for disconnection cases, which are in the 16 and 32 GB, which will allow you to preserve stored data while restoring connectivity with the VMS system.
Image Resolution
In this case, you must choose the camera that, according to your needs, offers you the best image quality. However, you should bear in mind that the higher its resolution, the price can increase significantly.
For example, in the market, you can find offers with a quality of 720p to 1080p. But if you need a camera for home use, the best option would be the first.  This is because a resolution of 720 pixels offers enough sharpness to differentiate moving objects without problems.
On the other hand, if you need higher image quality, you can choose a high-resolution surveillance camera because you can see the sharpest images.
Sensors
Motion and sound sensors can be really useful for monitoring your properties. For one thing, the motion sensor allows the camera to turn off while there is no movement in the environment.
On the other hand, different offers integrate sensors capable of activating image capture when any sound is detected. There are even models that can identify a particular type of sound, such as a doorbell, a door, or a baby's cry (such as a baby monitor).
Compatibility
Knowing on which devices the recordings made by the camera during surveillance will be received is of utmost importance. In this sense, you can find models compatible with iOS, Android, and even some that allow images to be viewed from a computer.
Therefore, it is most recommended that the model you choose at least have compatibility with your tablet or smartphone, because in this way it will be possible to view and control your surveillance camera at all times.
Easy Installation
Your solar-powered security camera should be designed with easy installation virtually anywhere, in hard-to-reach places. As they do not require cables of any kind, they can be installed in sites without nearby power points, such as construction sites, crops, stables, maritime vehicles, mobile applications or temporary sites, etc. 
They are equipment that installs more quickly anywhere; They are also easier to maintain, require only cleaning, and are easy to reinstall if the site of interest changes.
Environmentally Friendly
By taking advantage of solar energy, they do not require the use of cables, pipes, etc., which, when moving the camera from one point to another, generally these elements become waste.
Long Useful Life
This equipment should have a longer duration in outdoor environments where there is an incidence of electrical damage due to atmospheric discharges.  Not having electrical wiring or being part of an electrical circuit, they are less sensitive equipment to this type of damage.
However, damage due to electrical inductions can occur with a lesser possibility, so correct grounding and electrical installation of nearby equipment must be guaranteed.
Some brands already offer up to a 25-year warranty where solar panels can produce up to 80% efficiency over time with little maintenance.
Best Outdoor Solar Spotlight Camera 
Soliom s600 is an affordable and easy to set up a 1080p HD video camera that is battery-powered and truly wire-free, so it's easy to place and move within any outdoor environment. The 1080p HD video capture offers a clear view of your home or business, with minimal distortion or blurring.
Best rated wireless security cameras
In addition, the soliom s600 spotlight  solar surveillance camera outdoor wireless cameras are also weatherproof so safe for outdoor use, come with a built-in spotlight, support night vision and low-light illumination and include an onboard motion sensor, two-way audio, Live View and motion recording. Equipped with night vision and advanced PIR motion detection, this home security camera system lets you listen in and even talk back through the built in speaker and microphone that work directly through your iPhone or Android Mic.
Frequently Asked Questions: Outdoor Solar Security Camera
What should you do after installing your wireless outdoor solar security camera?
Crosscheck all the outdoor wifi camera 1080p you've mounted to make sure that they are securely placed and properly covered. If there's any gap in any part of the camera, make sure it is sealed properly, then turn on the camera's switch.
For remote-controlled models, ensure that you test the remote control at different points before installation. 
How long do outdoor solar security camera last?
A security camera needs to have a powerful enough solar panel to run pull in power for the camera to work for long hours – i.e. during daylight hours and overnight.
Solar security cameras give you a lot of advantages over the conventional electric lights. Anywhere where you do not have a good electrical connection, a wireless camera with a solar panel is the solution to your head warming.